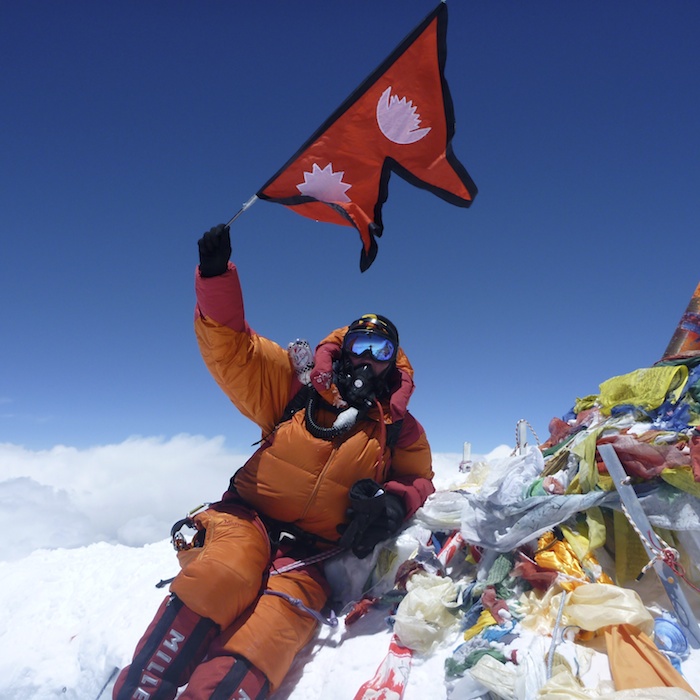 I vår artikelserie om att klättra Everest så är det dags för del 3 som ger dig en idé om vilka berg som kan vara lämpliga som förberedelse inför Everest. Artikeln är skriven på engelska då den har publicerats på en amerikansk artikelsida.
Getting in shape
You already have started your mental training and have prepared a personalized program. Now it is time to start your physical preparations. I will come back later to a training program.
Let us assume that you have never tried alpine climbing. A smart thing to do is to try some rock climbing before you move on to a glacier. Get used to ropes, repelling, knots, etc. That will make you feel much safer when you advance in your climbing. Train yourself to be independent on the mountain, even if you know that you will have a guide next to you. You can never predict different situations, but you can prepare yourself to take care of yourself when you are high up that mountain.
If you live in Europe, Mont Blanc is a great mountain to start with in the first year of your climbing program. It is a non-technical climb, but still a great challenge for you. The day of the summit you have a climb from the "Tête Rousse Hut" up to the summit and back, and that will take 10-14 hours.
If you live in the US, Mount Rainier or Mount Baker can be an excellent start for your alpine climbing training. Get experienced on snow; use an ice axe, crampons and rope to understand how everything works.
After summit you will be more experienced and ready for higher mountains.
The goal for the second year of your program is to get above 6,000m/20,000 feet. It will be a tougher challenge, climbing steeper, and perhaps using a jumar (ascent device). If you are on Denali, definitely try how it is to sleep on snow; that is very valuable for your future endeavour. You will force your endurance to understand how your body reacts on very high altitude.
Now you are feeling confident. You are familiar with crampons and ice axe; all this is useful knowledge on how your ascent and descent devices work. You know a few good knots. You understand how your body and mind work, or not, in high altitude or in states of extreme fatigue. You know when it is time to turn around, EVEN if you have not summit.
We are now at a stage where it is time to find out what you really can do
In your third year, it is time to climb above 8,000 meters/26,300 feet, into the death zone. Where the human beings only can stay for a short while. Starting from approximately 7,500 meters/24,500 feet, most climbers use supplementary oxygen. It will help them not only to breathe and to get more oxygen into their body, but also to avoid frostbite more easily.
Cho Oyu in Tibet, the sixth highest mountain in the world, is a great expedition to get your 8000-meter experience. It is not really technical. You have two cruxes; the first is above Camp 1 and is a snow serac, a steeper section that will push you a bit extra.
The second crux is above Camp 3 and appears on the Rock band before the summit plateau. You will have fixed rope on both sections.
The last couple of years, Tibet significantly has increased the cost for climbing permits and staff, and that has made Manaslu in Nepal more popular.
On the one hand, Manaslu is slightly lower than Cho Oyu, but, on the other hand, more difficult. Normally it snows more in the western part of Nepal than in the Khumbu valley. It is hard to break trail, and there can also be a higher risk of avalanches because of the snow. Otherwise, it is a beautiful mountain and a great choice in preparing for Everest.
If you have made it here, you have summited mountains above 8,000 meter/26,500 feet, and you are most likely ready to give Everest a shot.
Follow my articles about how you can successfully prepare yourself to actually climb Mount Everest. The fourth episode, where I will write about training programs, will be out soon.
Om bloggaren:
Michael Zettergren bloggar om det du behöver veta för att få en säker och rolig vistelse i naturen, föreläser gärna och är grundare till äventyrsresebolaget Adventure Lovers.
About:
Michael Zettergren blogging about everything you need to know to make your experiences in the mountains to pleasant and memorable trips. I'm doing presentations and are the founder and owner to the outfitter Adventure Lovers.